The Puls Polonii Cultural Foundation Inc. invites you to the special, Sydney concert KOSIUSZKO ENCORE, being a repeat of the Mound and Mount Kosciuszko Festival, which took place at the end of April 2007.
The concert will be preceded by the photographic exhibition Mound & Mount Kosciuszko Festival, depicting the similarity between the Kosciuszko Mound in Krakow and Mount Kosciuszko in Australia. Portrait photos from the Kosciuszko Music on Mount Kosciuszko performance, held in February on Australia's highest, mainland summit, will equally be displayed.


Sunday, the 1st of July
The Polish Club in Ashfield
Beginning at 2pm
Ticket cost:
$15 normal (adult)
$12 concession
$5 children up to 16
Free entry for children under 7!
In the program: the music of Tadeusz Kosciuszko, dances composed to accompany the music of Kosziuszko, performed by the dance ensembles Lajkonik and Syrenka of Sydney, as well as songs about Strzelecki and Kosciuszko, composed and performed by various artists.
A CD featuring songs from the concert, as well as car stickers, will be available for purchase prior to, and following, the concert.
All funds raised will contribute the production of a film about Kosciuszko National Park, and the historic concert on the summit of Mount Kosciuszko, as well as the premier of the song Strzelecki, Strzelecki.
Translation: Lukasz Swiatek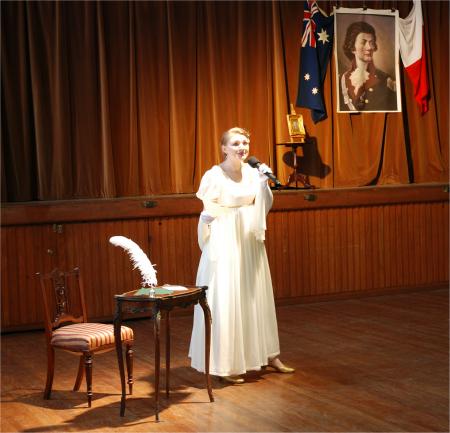 Barbara Gadd in the role of Lady Jane Franklin. Photo: Puls Polonii.