We are happy to announce that an Aboriginal artist Cheryl Davison of Moruya is going to display some of her paintings at Jindabyne NPWS Visitors Centre during K'Ozzie Fest 2009.
"Born in Bega, south-east Australia, I have lived for the most part on the coast, my mother's families are the Walbunga people from the Moruya area and the Ngarigo people in the Snowy Mountains region. I try to include as much of my culture in my paintings as possible, depicting south coast and Monaro dream time stories told to me by my family elders."
Unlike much Australian indigenous art which comes from the desert, Cheryl's paintings focus on life on the coast fish breeding in the Mangroves, seabirds resting on the sandy shore, life in the rock pools, and in the hinterland hunting lizard and wallaby, gathering grasses to weave into baskets and mats, cockatoos flying over a waterhole. All this is done with an eye trained to create a pleasing composition of colour and form.
"At an early age my parents saw that I had an artistic gift and that I was able to tell stories through my art, so they encouraged me to paint and draw. School teachers also encouraged my artistic abilities and in Year 10 I did work experience with Chris Webb creating the large murals inside the Nowra Aboriginal Culture Centre. This is where my long involvement with Aboriginal art began.
During my early twenties, I studied at the College of Fine Arts in Darlinghurst for a short period and then returned to Nowra to teach Aboriginal art and culture at the tertiary level.
After our only child was born, I moved to Eden to teach and to co-ordinate Kari Yalla, an indigenous arts co-operative which runs regular art exhibitions around the region. I still play an active role.
For the past 10 years I have lived on the far south coast, employed by Auswide Projects as an NCAP officer new careers for Aboriginal people program in Bega".
Cheryl works on paper and canvas using acrylic paint and gouache. She is also an accomplished printmaker.
www.aboriginalartdirectory.com/
Listen to Cheryl telling the story of Gulaga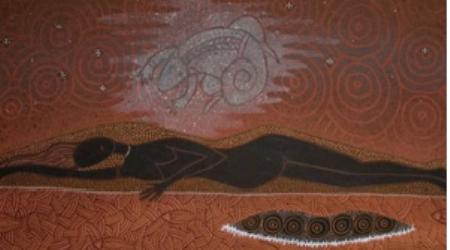 Gulaga Mountain - like a lady...