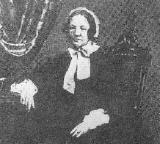 Adyna in her later years
Paul Edmund Strzelecki left his native country following an unhappy love affair with a 16 year old girl called Adyna, which was followed by a lifetime of a clandestine correspondence with her. Of all the letters Strzelecki wrote to Adyna only four have survived. There is so much we do not know about their relationship; one can only speculate. He allegedly requested that all letters and memoirs be destroyed after his death.
Paul Edmund was born in 1796 in Gluszyna, the part of Poland which was then under Prussian occupation. He was a very handsome young man with sapphire eyes - elegant, clever, and full of fire and vivacity. Adyna, born in 1805, had a beautiful complexion with a tawny shade, black eyes and raven-black hair (her forefathers came from Italy); she was short and slightly plump but had a very dignified bearing. She came from a patriotic, wealthy, and aristocratic family. Her father, Adam Turno, was awarded with Virtuti Militari, the highest possible Polish military decoration for his service. After Adyna's mother eloped with a lover, leaving behind her two children, the young Adyna resided with her grandmother whilst her father resided at a relative's manor.
Young Adyna became infatuated with a 24 year old Paul. This worried her father immensely. Adyna had already caught the eye of another young man called Konstanty Sczaniecki, from a well-to-do family of landowning Lords. As we read in Adam's memoirs, Konstanty wanted Adyna passionately but she did not want him "because that dandy Strzelecki turned her head", according to her father.
Adam Turno was eager to repair his finances through the marriage of his daughter into a wealthy family. However, in that undertaking, he utterly failed. With Paul Edmund away, travelling and exploring the world, Adyna waited for him some 40 years, and was never inclined to marry another man. Luckily, Adam Turno was more successful in arranging the marriage of his son Vincent to a wealthy noblewoman Helena Kwilecka, and this fact solved his financial troubles.
It is hard to comprehensively reconstruct Strzelecki's life in the 1820's. We know that he stayed some time in the beautiful Old Polish Town of Cracow. Cracow was the place where Poles from various occupied territories built a great mound to honour General Tadeusz Kosciuszko, the hero of wars of independence, in both America and Poland. This monument is well known as the Kosciuszko Mound.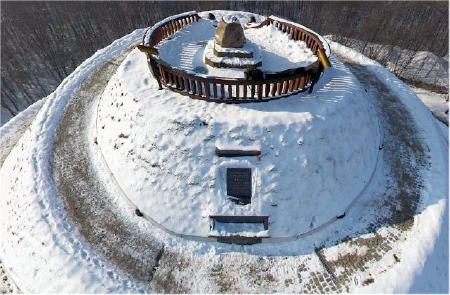 Cracow, the Kosciuszko Mound, bird's eye view. Photo Szymon Madej
Strzelecki left Europe, eager to discover new lands & new minerals. His voyage around the world took nearly 10 years, including 4 years spent in Australia. On 29th April 1839 he wrote from Sydney: "During all these travels, my love for you never faltered… I brush aside the temptations of Europe and of the two Americas, but the perfect nude figures of the women of the Oceanic Islands were enough to turn the head of the least susceptible male. But I want you above all other women. You are so far above all others."
In the same letter he acknowledged Adyna's anguish at the news of his alleged marriage to a daughter of an American millionaire. It was a rumour. "I was angry that you believed. Look! Do not repeat that mistake again. You should trust only our relationship", he begged of her.
In another letter he narrated the story of ascending and naming the highest peak of Australia. "The highest peak of the Australian Alps - it towers over the entire continent which, before my coming had not been surmounted by anyone, with its everlasting snows, the silence and dignity with which it is surrounded – I have reserved and consecrated as a reminder for future generations upon this continent of a name dear and hallowed to every Pole, to every human, to every friend of freedom and honour – Kosciuszko".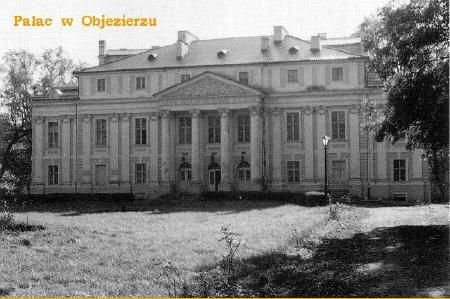 The palace in Objezierze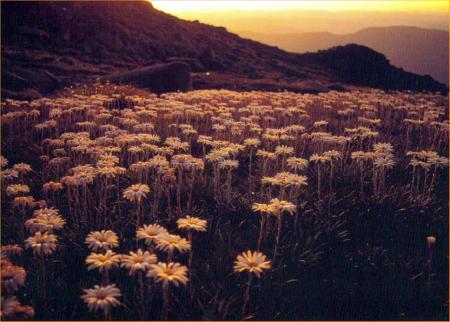 Mountain flowers at sunset
Folded into the pages of his lengthy letter to Adyna, was a white mountain daisy. "Here is the flower from Mount Kosciuszko—the highest peak of the continent , the first in the New World bearing a Polish name. I believe that you will be the first Polish woman to have a flower from that mountain. Let it remind you ever of freedom, patriotism, and love. I do not tell you to love me and think of me – you will do it as I do by habit – an inveterated habit whith me that nothing could change", he wrote.
Adyna received the mountain flower while she was residing in the Objezierze Palace in Poland, a building which survived national risings, wars and partitions of Poland. Whilst the palace survived, their love for each other did not. Sadly, over the years, Adyna and Paul Edmund drifted apart in their relationship. In October 1842, Strzelecki returned from Hobart to Sydney and wrote happily to Adyna about their planned reunion, which was to take place in June 1843 somewhere in Berlin or Paris. They were still talking about marriage but somehow it was becoming clearer that they would probably go their separate ways. Adyna, still in love, absolved him from his earlier vows to her, and said he was free to marry anyone else if that was what he wished.
On his return home (and home was London) he wrote to Adyna about his difficult financial situation due to the bankruptcy of his bank (The Bank of Andre Cottier). Whether the issue was solely about the money, we don't really know. With big achievemsnts and even bigger ambitions, Paul was clearly set on a scientific career. Adyna, in all truth, led rather an uneventful life, often wandering from manor to manor, spending time at society parties, reading interesting books, making philanthropic gestures, nursing her grandmother, visiting European health resorts with her relatives, and little more. It is difficult to assess their relationship when we have only a handful surviving letters out of more than a hundred.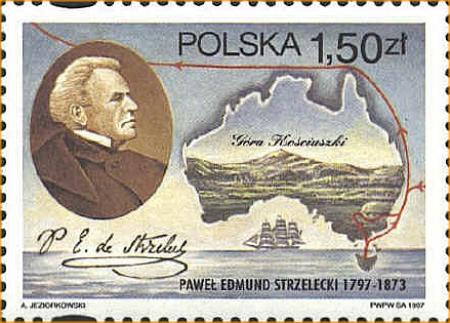 Commemorative stamp issued in Poland
Paul however lived a very eventful life in London… and beyond. As a person with deep sympathy with the needs of suffering humanity, he played an important role in the relief of the big Irish famine ( 1847-1848). He skilfully supervised the distribution of supplies in the affected areas and for his services, was awarded Companionship of the Bath. Other honours followed. He was naturalized. He lived amongst Lords. And the Queen awarded him a knightood. It was "Sir Strzelecki" from then on.
Silence fell between Paul and Adyna for several years after that. It was Adyna who broke the impasse after 3 years. He responded to her, in French, as usual. This time he addressed her officially "Vous" not "tu" as before. Madam. No more "darling". Paul explained to her that whilst in Ireland, he had suffered seriously from typhoid fever, survived, and on his return to London, had a whole year convalescing. We speculate that the bout of fever might have affected his virility, and if so, may have caused him some loss of interest in women.
Yet they did meet up once more, probably in 1866, in Geneva. Have they met in silence, or rather in tears? "The erractic youth who once aroused her ardours stood before her, full of years but full of honours, his laurels thick upon him. This was the triumph of his life, the return of the prodigal to his beloved. She had been torn from his arms. Now he had come back to her. But too late!" When during the meeting, Adyna Turno started to talk about the local gossip from Poznan, his thoughts were still occupied by the Irish problems, about how to irrigate Australia and explore its interior, or still reliving the lot of his friend Lord Franklin lost in Arctica. Strzelecki realised that they were left with little in common. "How much his former companion of youthful flirts had lost in comparison with such women as Jane Franklin or Florence Nightingale, who with their own energy and strength of character gained for themselves a place in history."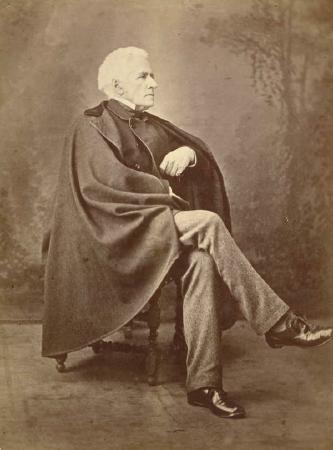 Sir Strzelecki in his final years in London
At the end of September 1873, Sir Strzelecki felt unwell. Cancer attacked his liver at a time when the Queen expressed the wish to meet the famous Count. On October 3rd 1873, Strzelecki received his last visitor in the Prime Minister William Gladstone. Paul Edmund died in his sleep, 3 days later.
Adyna died 9 years later. One could say that like so many Polish women of her generation, she was in perpetual mourning. Her nephew, Witold, died on a battlefield. Her brother Vincent died of typhoid fever while helping the farm people. Adyna and Vincent's widow, Helena, had moved to Poznan. Their home became a centre for the national resistance at a time when Poland ceased to exist as a nation. They used their money and position to keep the national spirit alive. When Adyna died ( of cancer, too) her Christian love, piety, love of family and love of country were publicly acknowledged and acclaimed.
Ernestyna Skurjat-Kozek
Sources:
1. L. Paszkowski, Sir Paul Edmund de Strzelecki. Reflections on his life, 1977
2. G. Rawson, The Count. A life of Paul Edmund Strzelecki, Adventurer and Scientist, 1953
3. Sir Paul Strzelecki and Australia, Published by the Strzelecki Committee to commemorate the 70th anniversary of Strzelecki's death
4. H. Heney, In a Dark Glass. The story of Paul Edmond Strzelecki, 1961.