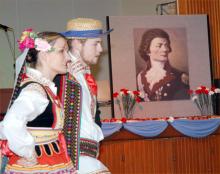 Łowicz z Kościuszką
Ku radości zaprzyjaźnionych Australijczyków nazwę festiwalu Mound & Mt Kosciuszko zmieniliśmy na krótszą i bardziej w stylu australijskim: K'Ozzie Fest 2009. Publikujemy program trzydniowego festiwalu już teraz, aby polskie rodziny mogły się spokojnie naradzić i bez nerwów zaplanować wypad w Snowy Mountains, a może i od razu zarezerwować miejsce w schroniskach.
Wyślij tego linka do przyjaciół, niech i oni do nas dołączą!
www.zrobtosam.com/PulsPol/Puls3/index.php?sekcja=1&arty_id=6336
Day One - Friday 17th April 2009
9 am Thredbo - Harmony Walk to Mt Kosciuszko, with Aboriginal Guide
5 pm Hotel Horizons, piano recital by Krzysztof Malek "Chopin and Szymanowski for Ozzies" for local VIPs, Media and the Community (Conference Centre)
Day Two - Saturday 18th April
9 am Jindabyne jogging session in the Banjo Paterson Park around Jindabyne Lake - in memory of late Fr Wally Stefanski
10 am Jindabyne Cinemas, "In the footsteps of Strzelecki" TVN film screening, free entry
11 am. Morning tea in the Memorial Hall
Noon: the Strzeleckis Gathering at the Strzelecki Monument. Family photo session.
1 - 3.00pm Memorial Hall, Polish BBQ
2 - 4pm Jindabyne Oval - Polish vs Ozzies Sports Challenge
5.00 pm Official Festival Opening with VIP's, Official Launch of Anthology, Graphic Competition Results "The Ozzie Mates of Strzelecki". See the Graphic competition exhibition "The Oz mates of Strzelecki" and Festival Gala Concert (2 hours) - venue to be advised.
8.00 pm Jindabyne Bowling Club - Polish Get-together
Day Three - Sunday 19th April Cooma Centennial Park & Cooma Monaro Arts Centre
8 am Rotary Market Day
9 am Polish music from CD
10 am St Patricks Mass
11 am - 2pm Gala Concert Cooma featuring Polish Youth from NSW, Vic, SA and Canberra and Oz youth from the Cooma-Monaro region
5 pm Cooma Arts Centre (next to Anglican Church) Krzysztof Malek Piano recital "Chopin and Szymanowski for Ozzies"
7 pm Drinks and Nibbles with the local Community, Community Representatives and Media
Plan B in case of wet weather - Concert at the Cooma Monaro Arts Centre.
Dynamiczny Łowicz z Melbourne. Foto Puls Polonii
Organizatorem Festiwalu jest Fundacja Kulturalna Pulsu Polonii przy serdecznym wsparciu "Lajkonika", Konsulatu RP, NPWS, Snowy River Shire Council, Cooma Monaro Shire Council & Cooma Rotary Club oraz...miejmy nadzieję, tych samych sponsorów, którzy już nam poprzednio wiele pomogli. Ufajmy, że i nowi sponsorzy pojawią się jak rydze po deszczu.