Day One. Venues: Jindabyne Aeroclub & Memorial Hall.
Jindabyne Aeroclub, off Barry Way, Fraternity Flights over Mt Kosciuszko (appx 10 flights) featuring Ngarigo representatives, VIPs & selected representatives of various communities, 9 am to 4 pm. In the huge shed, with a portable stage, nonstop performances. Official Speeches & live performances, singers, instrumental groups, folkloric ensembles, and interviews with flights participants. One of our sponsors: Kosciuszko Pale Ale. Kosciuszko Beer tasting.

Urgent!!!! Looking to find a team with Mobile kitchen to serve Polish food incl. famous potato pancakes.

Hoping the weather will be fine. And if not, an alternative program to be held indoors, incl. photo exhibitions in the Memorial Hall, opposite the gigantic Strzelecki Statue. Strzelecki being the one, who discovered and named Mt Kosciuszko, and placed it on the map of the world.

If everything goes well at the airfield, we shall continue our festivities in the Memorial Hall from 4 pm to 10 pm. Viewing Photo Exhibitions, singing, socialising.

The exhibitions are: 1. The best Graphic entries in the International "Kosciuszko Bicentenary" Competition. 2. Kosciuszko Monuments in the World. 3. History of Kozzie Fests in Jindabyne.

Day Two. Memorial Hall
Optional: Mass at St Columbkille, 2 Kosciuszko Rd., at 8,30 am. Kosciuszko Film screenings 10 am to -12 noon. 1. Kosciuszko: A Man Before His Time, dir. Alex Storozynski, prod. USA, dur. 54:38 2. Kosciuszko: Imie jego Polska (Kosciuszko: His Name is Poland), dir. Lucyna Smolinska, TVP, Poland, English subtitles, dur. 54:30[]

Lunch in the Memorial Hall or in front of the Strzelecki Monument. Do not forget to visit our sponsor, the Kosciuszko Brewery.

2 pm. Official speeches. + Gala Premiere of The Spirit of Kosciuszko – A Polish-Aboriginal collaboration in dance, music, poetry and song which explores the meeting of two cultures, and new understandings. (dur 30 mins). Followed by Kosciuszko Competition Gala – presentation of the winning artists & entries.

Piano recital by a young pianist from Warsaw, 16yo Julian Gilewski, winner of the second prize in music (Youth category),author of a composition called "Kosciuszko's Musical Moment".

We also wish to invite Chris Małek to play Chopin & Kosciuszko as he did for many years in the past.

Snacks are being organized by Lajkonik Families at the venue.

Film Marathon: screening of several movies. Available are more than 5 films including some archival ones digitalized by the National Film Institute in Poland, specifically for the occasion of the Kosciuszko Year.

An a very new film, just recently produced by Kosciuszko Heritage Inc. "Mound to Mount. Wyprawa z Kopca Kosciuszki na Górę Kościuszki - lipiec 2017."

1. Kosciuszko-Poland will Dance Again, dir. Ernestyna Skurjat-Kozek , Australian production 2016 dur 68 min.
2. An archival film "Pierwsza milość Kosciuszki" (Kosciuszko's First Love), Polish production 1929 , with English subtitles. Dur 69 mins.
4. Kosciuszko- Jego Imie Polska (Kosciuszko, His name is Poland), Poland, dur 54:30
5. Kosciuszko - A Man Before his Time, dir Alex Storozynski, USA, dur. 54:38
6. Aboriginal-Polish Fraternity Flights Over Mount Kosciuszko April 15, 2013, Australian, dur 27:53 . 7. P.E. Strzelecki's Humanitarian Deeds in Ireland, Australian dur 26:41 (Polish and English versions).

This is Preliminary program of Bicentennial Kozzie Fest, Jindabyne 28-29th October 2017; subject to changes.

For a Fest bus to be organized in Melbourne please contact Jola Kowalska jola1953@gmail.com, (03) 9872 3804;

For a Fest Bus to be organized in Sydney please contact Dariusz Plust 0410 506 991.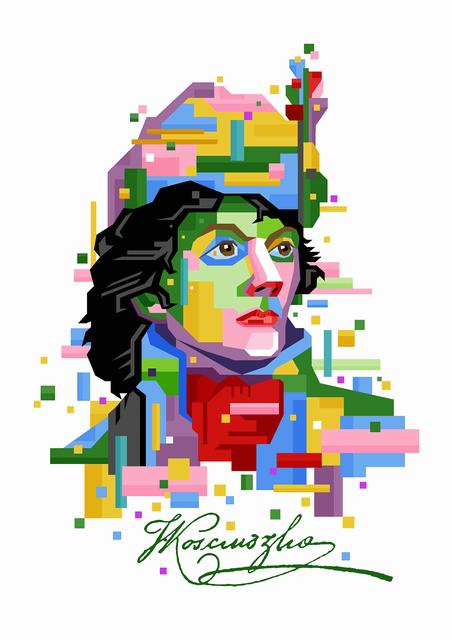 Dawid Celek, Wrocław, "Barwna postać" II nagroda w konkursie graficznym Kosciuszko Bicentenary
UWAGA!!! W Jindabyne, w National Parks Visitors Centre już od wczoraj wisi wystawa przygotowana na naszą prośbe przez firmę HotShots. Tak więc w Theatrette można obejrzeć kolorowe fotogramy - wspomnienia z Festiwali Kościuszkowskich w Jindabyne i Cooma i początki naszych kontaktów z Aborygenami Ngarigo - oraz druga wystawa autorstwa Felixa Molskiego, to pełna dokumentacja pomników Tadeusza Kościuszki na całym świecie. Unikalny zbiór - nota bene prezentowany obecnie również na Kopcu Kościuszki w Krakowie.
I własnie jutro z Felixem, Aborygenami i ekipą filmową lecimy do Krakowa na wielkie uroczystosci kosciuszkowskie na Kopcu i na Wawelu.