Born in Melbourne in 1992, Zuzanna Kamusinski is the middle child of two Polish immigrants who had made the daunting but thrilling journey to Australia several years earlier. Her first language was Polish and she grew up amid an abundance of adopted 'Ciocias' and 'Wujeks'. It was in Grade 3, when her family moved to Brisbane, that Zuzanna's Polish accent began to fade. It would eventually disappear - although she never did manage to pick up that delightful Aussie twang. She did, however, grow up with an increasing love of Polish music, art and cuisine, and - probably as all Polish children do - she became the class expert on how to pronounce 'Kosczuszko'.
Zuzanna's art career began at an early age when she started selling paintings of Australian wildlife at the Redcliffe Jetty markets. Her first artwork to ever win a competition still hangs in the Chambers of the Moreton Bay Regional Council. Later, in 2006, her folio of works was awarded 2nd place in the Annual Tyson Evans Scholarship Exhibition, and she used the prize money towards art lessons with renowned Queensland artist, Tricia Reust.
In pursuit of her other loves - public speaking and the written word - Zuzanna went on to study Journalism and Business at the Queensland University of Technology. Her adventurous spirit swept her from an internship in Quilpie, 800km west of Brisbane, to the United Kingdom, where she studied for 6 months at London's University of Westminster. Zuzanna graduated in 2013 with her double degree, along with accolades such as the QUT Journalism School award for Best Journalism with a Multicultural Theme and the EU Consulate award for Exceptional Academic Research on the theme of European Integration.
They say good things come in 3's, and indeed, in her last month at university, Zuzanna landed a byline in "The Australian", a job and a boyfriend. Her article in The Australian caught the eye of Federal Member for Petrie Luke Howarth MP, who would offer Zuzanna her first job out of university, and who would also set her up (although, unintentionally) with his past campaign manager, Jake. Zuzanna and Jake have been together ever since, and next year plan to move to overseas in pursuit of new opportunities.
It was only this year, when her dad forwarded her an email announcing the launch of the International Kosciuszko Bicentenary Competition, that Zuzanna took the opportunity to revisit her love of art. This was her chance to rekindle her artistic talents and to combine these with her passion for both her Australian and Polish heritage. Zuzanna's work, "Amongst Free People", is an Indigenous line and dot art inspired depiction of Tadeusz Kosciuszko, undertoned by Australian poet, Banjo Patterson's work, the "Man From Snowy River". Tying history with legend, Zuzanna envisioned her work to depict the historic battles for freedom and loss of cultural and human rights that both the Poles, many 1st generation Australians and Indigenous Australians have had to overcome.
Zuzanna is grateful to have been given the opportunity to get back into art, and to celebrate her heritage at the 2017 Kosciuszko Bicentenary celebrations.
Zuzanna lives in Brisbane, Australia, but is moving overseas next year with her partner, Jake. Destination: Unknown. Her parents work for Queensland hospitals, her older sister, Natalia, is Lawyer and compliance officer for the Moreton Bay Regional Council and her brother, Kris, a dance teacher, is getting married in May 2018.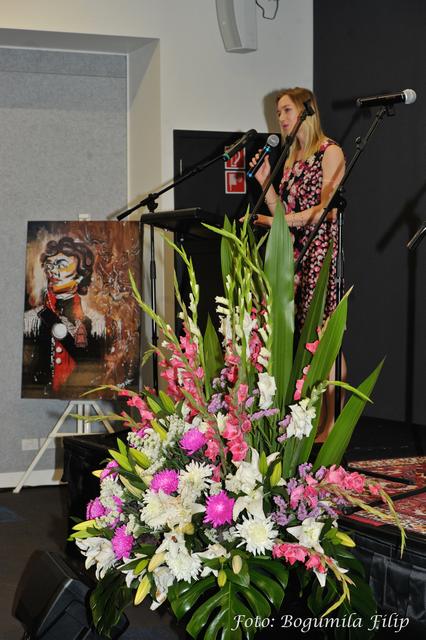 Photos by Bogumila Filip